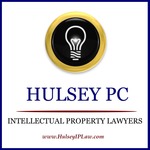 HULSEY PC - PATENTS & TRADEMARKS
Lawyers: Intellectual Property Austin
A GLOBAL STANDARD IN IP FOR A COMPETITIVE WORLD
Landline

(512) 478-9190

E-Mail

E-Mail

Twitter

Facebook

Video

Website

Menu

Order

Description
Bill Hulsey Lawyer | Bill Hulsey Patent Lawyer - HULSEY PC https://www.hulseyiplaw.com Patent & Trademark Lawyers / Agents | IP Law Austin – Memphis (512) 478-9190 | (901) 522-5139 | (585) 322-5300 Austin Attorney William Hulsey leads Patent Lawyers and Agents specializing in patents, technology licenses, and using IP rights to promote regional economic development. Bill Hulsey Patent Lawyer serves clients in Austin, TX; Rochester, NY; and Memphis, TN. HULSEY PC clients benefit from our decades of experience in proudly serving these and other IP stakeholder communities across the United States. Our practice provides patent, trademark, and related intellectual property legal excellence helping leaders excel through their inventions and brands. Bill Hulseys Lawyer strengthens the competitive IP positions of fast growing startup and growing entrepreneurial companies. This truly helps them compete and succeed in challenging global markets. The HULSEY PC team and Bill Hulsey Patent Lawyer possess and daily demonstrate deep experience in energy, space technology, medical devices, electronics, software, Internet, chemicals, materials, and photonics.
HULSEY PC - PATENTS & TRADEMARKS can be found at 3300 Interstate I-35, Suite 700 . The following is offered: Lawyers: Intellectual Property - In Austin there are 8 other Lawyers: Intellectual Property . An overview can be found here.
Keywords patent lawyer, patent attorney, Texas, Tennessee, Trademark attorney.
Bill Hulsey Patent Lawyer
BILL HULSEY LAWYER

PATENT - IP

BILL HULSEY PATENT LAWYER – IP & PATENTS established HULSEY PC to apply a highly developed specialty and experience in a broad span of technical fields. HULSEY PC takes great pride in serving emerging growth companies competing in global markets with products and services relating to renewable and sustainable energy technologies, life sciences, electronics, environmental innovations, software, and aerospace technologies. The Martindale-Hubbell Legal Directory has (a) rated William Hulsey Attorney "AV-Preeminent" for the past six years, (b) rated him as "AV-Preeminent Judicial Edition" (the highest possible rating), (c) named him a "Top Rated Texas Attorney for Ethics and Legal Ability," (d) awarded him repeated with their "Client Distinction Award" based on multiple evaluations of his client service and relationships skills, and (e) listed him in their Bar Registry of Preeminent Attorneys. He is listed among The Best Lawyers in America for patent law, and Hulsey PC as one The Best Law Firms in America. Bill has been recognized with a "Top 1% Most Honored Professionals" award by The American Registry. For the past five years, Av vo Legal Directory, America's largest on-line attorney directory, has both rated Mr. Hulsey as "10 out of 10-Superb" and recognized him with their "Clients Choice Award" in the areas of Patent Law, Trademark Law, and Licensing Law. During this period, www.Avvo.com has continuously ranked his patent practice with their highest client rating in America of all practicing U.S. patent attorneys. Today, Mr. Hulsey serves as a Global Fellow of the IC2 Institute of the University of Texas at Austin and has served on the Board of Directors for the Central Texas Regional Center for Innovation and Commercialization (RCIC), as well as over five years on RCIC Selection Committees in the Central Texas. Mr. Hulsey has served on the Selection Committee for the Central Texas Regional Center for Innovation & Commercialization under The State of Texas Emerging Technology Fund Program. In 2011, Bill wrote the submission to the U.S. Patent & Trademark Office for the City of Austin to receive a USPTO Satellite Office, which assisted in Texas' successful selection for the new U.S. Patent Office in Dallas, Texas. For the internationally recognized Idea to Product (I2P®) Global Competition, which was started at the University of Texas at Austin, he has served as a finalist judge for competitions at University of Lisbon, Portugal [2010], the Royal Technical University of Stockholm, Sweden [2011 & 2012] and Universidade Federal de Juiz de Fora of Sao Paolo, Brazil [2013 & 2014]. Presently, Mr. Hulsey serves as an adjunct professor at St. Edward's University's Bill Munday School of Business teaching Digital Media Law to M.B.A. students. William Hulsey has successfully completed graduate level training and education in engineering as a U.S. Navy nuclear engineer and submarine officer, economics through a M.A. in Economics from The University of Virginia and continuing Ph.D. studies at the University of North Texas, and law through a J.D. from The Vanderbilt School of Law. As an Attorney, is the founder of HULSEY PC and practices in Austin, Texas and Memphis, Tennessee. Prior to practicing law, Mr. Hulsey was a commissioned Naval Officer, attaining the rank of Lieutenant Commander in the U.S. Navy Nuclear Submarine Force. Bill served first as a member of the USS Jacksonville (SSN699) nuclear submarine pre-commissioning and initial sea trials crew and then later as an Engineering Duty Officer, completing his naval service as Commanding Officer of an engineering unit supporting Submarine Base Pearl Harbor, Hawaii. While in graduate school, Bill worked as a Scientific & Technical Intelligence Analyst for the United States Army's Foreign Science & Technology Center in Charlottesville, Virginia and the Army's Electronics Research & Development Command in Adelphi, Maryland. From this and other work, he frequently has assisted clients in scientific matters before the Department of Defense, Department of Energy, and contractors to these federal agencies. Mr. Hulsey holds a J.D. from the Vanderbilt School of Law where he was Senior Managing Editor of the Vanderbilt Law Review and graduated Order of the Coif; a Masters Degree in Economics from the University of Virginia focusing on technology industry economic development; and a Bachelor of Science in Mathematics from Rhodes College, where he graduated With Distinction. On September 19, 2016, in collaboration with the Austin Chamber of Commerce and the Texas Regional Office of the USPTO, Bill led the organization and presentation of "Patent Reform Five Years On: A Review of the America Events Act" highlighting changes in IP law and practice since the 2011 enactment of the Leahy-Smith America Invents Act, including the establishment of the AIA Pro Bono Inventor Assistance Program.

Education:

Services:

Link: BILL HULSEY LAWYER
Patents And Trademarks
PATENT PROTECTION

A patent is a set of exclusive rights granted by a sovereign state to an inventor or assignee for a limited period of time in exchange for detailed public disclosure of an invention. An invention is a solution to a specific technological problem and is a product or a process.Patents are a form of intellectual property. The procedure for granting patents, requirements placed on the patentee, and the extent of the exclusive rights vary widely between countries according to national laws and international agreements. Typically, however, a granted patent application must include one or more claims that define the invention. A patent may include many claims, each of which defines a specific property right. These claims must meet relevant patentability requirements, such as novelty, usefulness, and non-obviousness. The exclusive right granted to a patentee in most countries is the right to prevent others, or at least to try to prevent others, from commercially making, using, selling, importing, or distributing a patented invention without permission. Under the World Trade Organization's (WTO) Agreement on Trade-Related Aspects of Intellectual Property Rights, patents should be available in WTO member states for any invention, in all fields of technology,and the term of protection available should be a minimum of twenty years. Nevertheless, there are variations on what is patentable subject matter from country to country. HULSEYIP has both the focus and breadth of talent to protect your most important IP assets. We practice in virtually every area of intellectual property law and bring a meticulous comprehension of the ideas we protect, advocate, and leverage. Our patent prosecution practice prides itself in delivering solid protection for some of the most complex and significant innovations that shape advances in business and science. We have assisted businesses and organizations in industries as diverse as energy and power distribution technologies, aerospace and transportation technologies, electronics and computer technologies, Internet and software and eCommerce technologies. Inventiveness and risk-taking must be rewarded both in the U. S. and abroad for your company or organization to prosper. Our professional relationships with over 200 firms throughout the world help our clients obtain patent protection in other countries and help our international clients obtain patent protection in the U. S. We work with clients to devise effective strategies, from assessing needs for patent protection, through defending patents in court. Our patent prosecution practice covers all areas of patent law including: Application preparation, filing and prosecution strategies; Utility, plant, and design inventions; U. S. and foreign protection including practice under the Patent Cooperation Treaty (PCT); Administrative appeals ; Interferences; Petitions and protests; and Reissues and reexaminations. As your needs evolve, HULSEYIP brings experience in patent transactions, due diligence, portfolio management, opinions, and counseling. The strongest and best patents are less likely to be litigated. But should your protection be challenged or infringed, HULSEYIP brings proven experience and an impressive track record.

TRADEMARKS AND BRANDS

A trademark, trade mark, or trade-mark is a recognizable sign, design, or expression which identifies products or services of a particular source from those of others, although trademarks used to identify services are usually called service marks. The trademark owner can be an individual, business organization, or any legal entity. A trademark may be located on a package, a label, a voucher, or on the product itself. For the sake of corporate identity, trademarks are often displayed on company buildings. "Trademark means a mark capable of being represented graphically and which is capable of distinguishing the goods or services of one person from those of others and may include shape of goods, their packaging and combination of colors" HULSEYIP attorneys and staff also hold valuable experience in the legal proceedings for trademark infringement to prevent unauthorized use of that trademark. The advent of the domain name system has led to attempts by trademark holders to enforce their rights over domain names that are similar or identical to their existing trademarks, particularly by seeking control over the domain names at issue. Enforcing trademark rights over domain name owners involves protecting a trademark outside the obvious context of its consumer market, because domain names are global and not limited by goods or service. We also know and regularly work with the international systems which facilitate the filing, registration or enforcement of trademark rights in more than one jurisdiction on a regional or global basis, including the Madrid Protocol, the European Community Trademark Systems, and the Trademark Law Treaty.

IP Counseling & Management

Intellectual property (IP) refers to creations of the intellect for which a monopoly is assigned to designated owners by law.Intellectual property rights (IPRs) are the protections granted to the creators of IP, and include trademarks, copyright, patents, industrial design rights, and in some jurisdictions trade secrets. Artistic works including music and literature, as well as discoveries, inventions, words, phrases, symbols, and designs can all be protected as intellectual property. If your company is considering litigation, a new line of business, the development of an innovative product, mining its portfolio, or licensing or selling patents, you need to understand your current legal and business position, risks, and options. HULSEYIP provides the information and guidance to help you make the right choices for your business. We regularly render opinions ranging from a single opinion on a specific patent to providing long-term, ongoing counseling on complex patent portfolios or litigation. We routinely address patent validity, enforceability, misuse, design-around issues, licensing potential, IP contract construction and enforcement, and export controls. We regularly partner with our clients' legal, business, and technical staff to identify the potential for risk and reward, from idea to revenue-generating portfolios. In addition to transactional counseling, we routinely advise clients on pre-litigation strategies. Our extensive litigation experience gives us firsthand insight into the various types of arguments opponents may raise. Combining our litigation and IP transactional experience allows us to help guide our clients to favorable settlements of disputes before or during litigation.
Categories
Lawyers: Intellectual Property
(512)478-9190 (512)-478-9190 +15124789190 (512)658-7173 (512)-658-7173 +15126587173
Map 3300 Interstate I-35, Suite 700